It's that time again! Time to celebrate Father's day with the top 10 dads in literature. As always, if you have any favorites that aren't included in this list, feel free to add them in the comments!
1. Atticus Finch from To Kill a Mockingbird by Harper Lee
"I wanted you to see what real courage is, instead of getting the idea that courage is a man with a gun in his hand. It's when you know you're licked before you begin but you begin anyway and you see it through no matter what. You rarely win, but sometimes you do."
When you ask people who their favorite literary father is, the answer is always Atticus Finch from To Kill a Mockingbird by Harper Lee.
A character based on Harper Lee's own father, Atticus Finch has all the makings of an incredible man. He is honest, kind, and meritorious, but what makes him excel at fatherhood is his empathy. Atticus' ability to do what he believes is the righteous thing to do regardless of the sway of the crowd makes him a role model and his ability to convey a lesson to his kids despite the turmoil in their community makes him arguably the best father in literature.
2. Mr. Bennet from Pride and Prejudice by Jane Austen
[ordered to order Lizzie to accept Mr. Collins's proposal]
Mr. Bennet: Your mother insists on you marrying Mr. Collins...
Mrs. Bennet: Yes! Or I'll never see her again!
Mr. Bennet: Well, Lizzy, from this day henceforth it seems you must be a stranger to one of your parents...
Mrs. Bennet: Who will maintain you when your father's gone?
Mr. Bennet: Your mother will never see you again if you do not marry Mr. Collins... and I will never see you again if you do.
Mrs. Bennet: Mr. Bennet!
Elizabeth Bennet: Thank you, Papa.
The cantankerous Mr. Bennet. Seemingly unaffected and disinterested in his daughters' lives compared to their mother, Mr. Bennet takes a different approach to fatherhood as well as married life. Where Mrs. Bennet is focused on finding wealthy husbands for her daughter, Mr. Bennet is determined that they marry someone they love. He provides a comedic reprieve to the earnest "mothering" of Mrs. Bennet.
3. Jean Valjean from Les Misérables by VIctor Hugo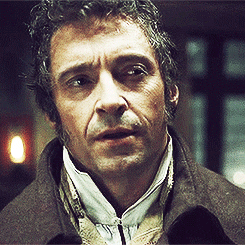 "Yes Cosette, forbid me now to die I'll obey. I'll try. On this page I write my last confession. Read it well when I at last am sleeping. It's the story of one who turned from hating - a man who only learned to love when you were in his keeping. "
Jean Valjean had come a long way from being Prisoner 24601 when he adopted Cosette. While Cosette's mother, Fantine, was sick in the hospital, Jean Valjean promised to get Cosette away from the innkeepers that were abusing her. By the time he had successfully rescued Cosette, Fantine had already passed away. Jean Valjean took her in as his own.
Although in the beginning of the story Jean Valjean is a criminal, he continues to atone for his past sins. He goes to Montreuil-sur-Mer and revolutionizes their factory production and pays for town services such as the orphanage, the hospital, and the schools. He cares for Cosette like she is his own daughter and sets an example of compassion, generosity, and fatherly love.
4. Arthur Weasley from Harry Potter by J.K. Rowling
"Harry, there are some within the Ministry who would strongly discourage me from divulging what I'm about to reveal to you, but I think that you need to know the facts. You are in danger. Grave danger."
Arthur Weasley may seem like an over-enthusiastic simpleton to those in charge at the Ministry of Magic, but he has shown time and time again that he is a man of strength, bravery, and compassion for his family and those who are considered a lesser class of people. When Harry Potter becomes friends with his youngest son, Ron, Mr. Weasley develops a fatherly bond with Harry and accepts him as one of the brood.
His curiosity about muggle items and his sense of adventure keep him young despite raising seven children with his incredible wife, Molly. In spite of his overall wackiness, perhaps because of it, Arthur Weasley demonstrates a strength of character in the face of adversity that makes it easy to look up to him as a father.
5. The Father from The Road by Cormac McCarthy
The Man: Listen, we have to talk. That man back there... There's not many good guys left, that's all. We have to watch out for the bad guys. We have to just... keep carrying the fire.
The Boy: What fire?
The Man: The fire inside you.
The Boy: Are we still the good guys?
The Man: Yes, we're still the good guys. Of course we are.
The Boy: And we always will be? No matter what happens?
The Man: Always will.
Although you never learn his name, The Man from The Road by Cormac McCarthy is a dedicated father. In an apocalyptic world, The Man is determined to care for his son, The Boy, regardless of the dangers of the outside world. Past the point of The Boy's mother surrendering to the devastation of the world, The Man refuses to surrender and teaches The Boy how to survive and still retain his humanity.
6. Thomas Schell from Extremely Loud and Incredibly Close by Jonathan Safran Foer
"Congratulations, Oskar. With unbelievable bravery and wisdom far beyond your years, you have proven both the existence of the sixth borough and your own excellence. Where ever they are now, the people of the sixth borough celebrate you. And so do I. Now, it's time to go home."
I can't imagine the devastating loss of losing your father as a child, but in Extremely Loud and Incredibly Close, Oskar's father Thomas Schell left behind a legacy of curiosity and determination. Although Thomas Schell had already passed away before the book starts, Oskar's memory of his father's adventurous games and caring heart are what stay with him throughout his life.
7. Brian Fraser from Outlander by Diana Gabaldon
"My father liked me, when I wasna being an idiot. And he loved me to-- enough to beat the daylights out of me when I was being an idiot."
Brian Fraser, Jamie Fraser's father from Outlander by Diana Gabaldon, was not a major character, but the imprint he left on Jaime's soul was apparent. Brian remained a positive figure in Jaime and his sister Jenny's lives even after Brian lost his first son to smallpox and his wife during childbirth. Through Jaime's flashbacks you find out that Brian Fraser raised Jaime with a lot of love, but also with a firm hand.
8. Joe Gargery from Great Expectations by Charles Dickens
"…lies is lies. Howsoever they come, they didn't ought to come, and they come from the father of lies, and work round to the same. Don't you tell no more of 'em, Pip. That ain't the way to get out of being common, old chap…If you can't get to be uncommon through going straight, you'll never get to do it through going crooked."
Pip lost his parents when he was young, so he was left to be raised by his sister and her husband Joe Gargery. While Pip's sister was resentful of having Pip as a responsibility, Joe often took the brunt of her anger to protect Pip. Even when Pip went to the city and tried to shed his commoner background, Joe Gargery continued to love him and remain a positive influence in Pip's life especially when Pip was acting less than honorable. Joe understood that Pip had some growing up to do and remained his friend throughout.
9. Charles "Pa" Ingalls from Little House on the Prairie by Laura Ingalls Wilder
"You know we have a lot of funny notions born inside of us, Half-Pint. The funniest is that we're supposed to hide the way we feel about people. Let me tell you, everybody wants to know that they are loved, or needed, or cared about. Anybody who doesn't want to know that has something wrong with them. "
Another name that comes up when you ask people about their favorite literary fathers is Charles "Pa" Ingalls from Little House on the Prairie. Supportive, wise, and with love in his heart, Pa Ingalls not only makes a good father to his kids and a good husband to his wife, but he is also a man that people in the community respect and seek out for advice.
What makes Charles Ingalls an admirable father however, is not his perfection but his imperfection. He is not a man immune to anger, resentment, and hostility, but through the strength of his family and friends, he is able to grow and learn from the inevitable frustrations of being an adult.
10. Geppetto from Pinocchio by Carlo Callodi
Geppetto: Now close your eyes and go to sleep.
Pinocchio: Why?
Geppetto: Everybody has to sleep. Figaro goes to sleep - and Cleo - and besides, tomorrow, you've got to go to school.
Pinocchio: Why?
Geppetto: Oh, to learn things and get smart.
Pinocchio: Why?
Geppetto: [starts to fall asleep] Because.
Pinocchio: Oh.
Geppetto was a lonely wood carver who received a block of wood without knowing it was magical. He then created a puppet out of that block of wood and before he knew it, the puppet had come alive! Doing the best he could with the responsibility of raising a boy that was made out of wood, Geppetto raised Pinocchio as he would his own son. Throughout the book Geppetto tries to raise Pinocchio to make the right decisions and to get an education, but Pinocchio -the block head that he is (see what I did there?)- continues to find himself in troubling and morally-compromising positions. But Geppetto, being the good father that he is forgives Pinocchio and leads him back to the honest path.
I think what's so inspirational about father characters in literature are the sources where the authors are drawing inspiration from. It's easy to recognize the values that we respect in our own dads as we read about them in books. So Dads, in all the different ways you are a father figure to everyone in your life, thank you for being the amazing person you are.
Happy Father's Day!