All too often in literature, the main focus of the book is on the plight of the main character, with their mother often being a sub-character in their lives. This Mother's Day I wanted to bring to light those mothers that we cherish in our favorite books, because in those honorable ladies we find the characteristics that we love and admire in our own mothers.
1. Claire from Son by Lois Lowry (Book 4 of the Giver Quartet Omnibus)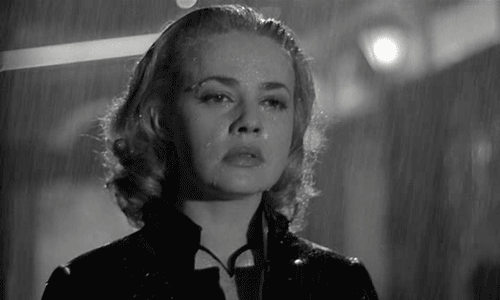 Jeanne Moreau as Florence Carala from Elevator to the Gallows
(Son hasn't been made into a movie yet so I don't have a gif of Claire)
In a society that industrializes childbirth and child-rearing, Claire (a one-time "birth mother"), has complications with the birth of her first child. She is released from being a "birth mother" without pomp and circumstance, and is abandoned to their community. Unfortunately (or fortunately) for Claire, she was not told about the emotion-blocking pills that everyone takes every day. Claire begins to long for her son and searches him out in the nursery to spend time with him. Then when he is taken out of their community by a boy named Jonas, she does the unthinkable and leaves the community to search for him.
Claire eventually finds her son, but not without sacrificing her safety, security, as well as her youth. She is a true example of a mother's love for her child.
2. Molly Weasley from Harry Potter by J.K. Rowling
Julie Walters as Molly Weasley from Harry Potter and the Deathly Hallows
Molly Weasley, incredible woman that she is, raises 7 children (two of which were mischief-loving identical twins), and welcomes Harry Potter into her home with open arms. She even finds the time to knit sweaters for the family as Christmas gifts.
Mrs. Weasley is not only a homemaker and caretaker, she knows how to be fierce. When any of her brood are threatened, nothing will stand in her way. She is responsible for the downfall of Beatrice LeStrange, one of the major villains of the story.
3. Lily Evans Potter from Harry Potter by J.K. Rowling
Geraldine Somerville as Lily Potter from Harry Potter and the Deathly Hallows
Although the reader is not exposed to Lily Evans Potter very much, you definitely feel for the kind of mother that she was. Lily Potter gave her life protecting her son, Harry. Her love for him was so powerful that her protection lasted beyond the boundaries of the living. Throughout the story Harry was constantly reminded of his mother's love and devotion, and that adherence is how Harry survives being "The Chosen One".
4. Natalie Prior from Divergent by Veronica Roth
Ashley Judd as Natalie Prior from Divergent
To be Abnegation is to live a selfless and humble life, but Natalie Prior was a woman who had character beyond her faction. In an effort to reinstate peace in the world, she voluntarily submitted herself to a social experiment that completely cut her off from society. As a member of this society, you get to choose which faction you belong to when you become a certain age, but you cut off all ties with your birth family as a result.
When her children chose different factions than Abnegation, instead of writing them off as lost, Natalie Prior made sure her kids knew that she loved and would support them regardless of which faction they belonged to. And when there is a societal coup and violence breaks out, Natalie Prior is shot while protecting her daughter from gunfire.
5. Claire Beauchamp Randall Fraser from Outlander by Diana Gabaldon
Caitriona Balfe as Claire Randall Fraser from Outlander
Probably one of my favorite characters ever written, Claire Beauchamp Randall Fraser is a firecracker. Drop her in any situation and she is quick on her feet and will best you with her wit. (Also she kills a wolf with her bare hands and then faces the rest of the wolf pack!) Not to mention she is G.O.R.G.E.O.U.S! (And if I'm honest, reminds me of my own mom!)
What I love about Claire is she doesn't back down. If she has something to say, she'll say it, regardless of the consequences. Her love of her life, Jaime Fraser, isn't immune to her piece of mind either. She will fight for what she believes is right, even if it hurts. An example of this is when she has to travel back to her own time (did I mention time travel?) for the safety of her unborn daughter. She leaves Jaime to fight in a war that he will likely die in so she can protect her daughter's life.
Another reason why Claire is incredible is she is living in post WWII, where women are still not accepted as qualified for any career except for secretary and motherhood. In spite of the discrimination, she goes to college and becomes one of the few women doctors of the era. She finds her passion in medicine and doesn't let anyone stand in her way.
6. Mrs. Lancaster from The Fault in our Stars by John Greene
Laura Dern as Mrs. "Frannie" Lancaster from The Fault in Our Stars
The Fault in our Stars was probably one of the only books where one page I was laughing, and on the next page crying horrible ugly tears. John Greene beautifies falling in love as a teenager, and Mrs. Lancaster really seems to appreciate it for what it is.
Knowing that her daughter, Hazel, has a limited chance to experience life, she is constantly enthusiastic about Hazel experiencing "normal, teenage things". When Hazel finds herself in love with a boy, Mrs. Lancaster supports the relationship with full force. She even chaperones a trip to the Netherlands so the kids can meet they author of their favorite novel. She dedicates her life to making her daughter's life as fulfilling as it can be.
7. Miss Jennifer Honey from Matilda by Roald Dahl
Embeth Davidtz as Miss Honey from Matilda
Who wouldn't love to have a mentor like Miss Honey? This beautiful woman recognizes the special light that's inside Matilda and sets out to make sure she knows she is appreciated. Not only is she a very devoted teacher to all of her students, Miss Honey makes sure that Matilda is treated right at home too.
When Matilda's real (and pretty terrible) parents are run out of town because of the law, Miss Honey steps in and offers guardianship to Matilda so she can learn and flourish in an environment that would allow her to do so.
I also want to give a commendation to Matilda's real mom. Sure she wasn't the best mother to a girl with Matilda's intelligence, but she loved her enough to understand her own limits and allowed Matilda to live with Miss Honey.
8. Hester Prynne from The Scarlet Letter by Nathaniel Hawthorne
Molly Wilson as Hester Prynne from The Scarlet Letter (2015)
Hester Prynne was beautiful, headstrong, and confident. She was shunned and punished by a puritanical society for her pregnancy out of wedlock, but she chose to persevere and provide a life for her daughter Pearl. Hester Prynne's integrity and character throughout the novel, her willingness to selflessly help those members of the community that don't acknowledge her in the street, and her devotion to her daughter make her a mother to be admired.
9. Mrs. Margaret "Marmee" March from Little Women by Louisa May Alcott
Susan Sarandon as Mrs. March from Little Women
The indomitable Mrs. March from Little Women is nothing short of extraordinary. In the midst of a time when mothers were marrying their daughters off to the first rich man they met, Marmee (as her daughters endearingly called her) encouraged her children to find their passions and marry for love. She advises her daughters from her own experiences, and admits when she has been challenged in the past.
Although the loss of her daughter, Beth, is devastating for the entire family, Mrs. March keeps her daughters connected. They all come together to celebrate Marmee's 60th birthday with their husbands and children.
10. Carly Jo Wheatley (aka Jo) from Safe Haven by Nicholas Sparks
Cobie Smulders as Carly Jo from Safe Haven
Throughout the novel, you're under the impression that Jo is being a good neighbor and friend to Katie, who just moved into town. Katie falls in love with a man named Alex, whose wife had died, and begins to take care of Alex's two kids.
Eventually you find out that Katie's friend Jo, is actually "Carly Jo" who was married to Alex and passed away. Carly Jo wrote a letter to "the woman Alex loves" before she died, and asked that Katie take care of Alex and the kids.
Although Carly Jo knew she wasn't going to be able to watcher her kids grow up and take care of her kids, she wanted her husband to know that it was okay that he moved on. And she also wanted to make sure that the woman that Alex would eventually fall in love with knew that she had Carly Jo's blessing.
Thank you to all the Mothers out there. You make the world a better place!